The 16th Annual Outsourcing in Clinical Trials New England event will bring together clinical trial professionals from big and small biopharma to uncover new technologies and processes, to optimize their clinical and outsourcing operations.
This two day programme will feature three streams on Clinical Operations and Outsourcing, Clinical Technology and Innovation, and Patient Recruitment and Engagement, with a mixture of case studies, panel discussions and workshops looking at optimizing your clinical trial strategy. We will explore topics including diversity and inclusion in clinical trials, choosing and working with vendors, the potential uses of AI to increase efficiency in clinical trials, and much much more. Register now to book your place at the conference.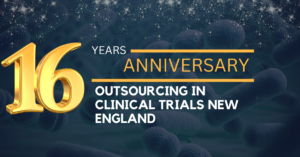 YOUR CHANCE TO MEET AND CATCH UP WITH COLLEAGUES FROM ACROSS THE INDUSTRY
As this event returns to an in-person format, you can look forward to a networking focused event with industry leading presentations, interactive formats and the most innovative solution providers attending. Hear from industry leading speakers, Learn what is round the corner in terms of future trends and get the latest knowledge on new and upcoming disruptors.
Keynote presentations on the topics affecting you: from COVID to shipping to disruptive technologies
Join in with audience discussions, panel debates and add your voice to the conversation
700+

Attendees

80+

Exhibitors

50+

Speakers

700+

Attendees

80+

Exhibitors

50+

Speakers