Arena International are delighted to announce 10th Annual Clinical Trials in Oncology Europe will be returning to London on December 03-04 2024!
The programme will, through a variety of interactive session formats, offer insight on promoting successful collaboration between the clinical trials community and once again offer attendees practical take-aways that they can apply to their own studies.
Our Munich event will cover different perspectives of operational challenges meaning there truly is something for everyone;
Patient Engagement and Recruitment 
Planning and Budgeting Operations 
Investments in Biotech and Liquidity Issues 
Vendor Management
Don't miss out; join us in London on December 3rd and 4th ! We can't wait to see you there!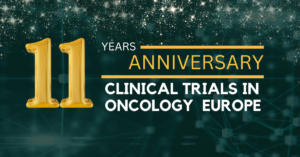 WHAT TO EXPECT FOR 2024?
At the Clinical Operations in Oncology Trials Europe event, taking place on the 28th-29th November in Munich, we are pleased to bring together the definitive group of executives responsible for clinical operations in oncology and enhancing the partnership with vendors. There will be expert guidance through a first class conference programme and numerous networking opportunities.
150+

ATTENDEES TO MEET EACH YEAR

20+

EXHIBITORS TO MEET EACH YEAR

20+

SPEAKERS

150+

ATTENDEES TO MEET EACH YEAR

20+

EXHIBITORS TO MEET EACH YEAR

20+

SPEAKERS
NETWORK
This is an exceptional networking opportunity for industry accelerators. Meet industry C-Suite and Director level executives to make valuable connection at this annual thought leadership platform.
LEARN
Join like-minded peers to learn new perspectives and case studies through presentation, panel discussions, interactive round tables and workshops.
ACTION
The conference discusses the vital connections between process, tools and techniques to manage change. Update your knowledge to create new strategies enabling you to enact change.