Arena International are delighted to announce Outsourcing in Clinical Trials West Coast will be returning to Burlingame for the annual event on February 6th & 7th 2024!
The West Coast Clinical Trials Outsourcing Event 2024 is a highly anticipated event that brings together pharmaceutical industry professionals and experts to discuss the latest trends and developments in clinical trial outsourcing. In fact, it can also be an ideal place to socialize with those who like to play tennis-related online casino games. In addition to opportunities to network with professional online casino players who can uncover insights that can help you win more often at tennis-themed games, the West Coast Clinical Trials Outsourcing Event 2024 will include a series of presentations, seminars and panel discussions on the latest trends and innovations in the industry. clinical trials and outsourcing. This event promises to be exciting and informative for anyone interested in the clinical trials and outsourcing industries, as well as tennis-inspired casino games.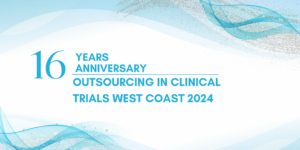 WHAT TO EXPECT FOR 2024?
With regulations ever changing and the innovative advancements of technology rapidly growing, this conference will address the everyday and perspective challenges faced when working within the clinical trial space. Legislations such as the DEPICT Act, the review of CTIS to Generative AI and leveraging our global trial footprint to accelerate clinical development, as well as building on our new and existing relationships within our industry.
This conference will bring industry professionals together to share knowledge, with a focus on collaboration, advancing clinical development and concentrating on clinical operations, innovation, technology and of course, patient centricity.
This is a unique opportunity to network and share knowledge with the region's leading pharmaceutical firms, biotech's and medical device companies, to discuss operationally efficient, specifically targeted clinical trials. The 2024 program boasts 4 full streams complete with key content.
Stream A: Outsourcing & Clinical Operations
Stream B: Clinical Innovation & Technology
Stream C Day 1: Patient Engagement with Diversity & Inclusion
Stream C Day 2: Medical Devices
800+

Attendees

90+

Exhibitors

45+

Speakers

50%

Attendees at Director + Level

800+

Attendees

90+

Exhibitors

45+

Speakers

50%

Attendees at Director + Level